Honey Bear Jar
Regular price

$ 15.50
Sale price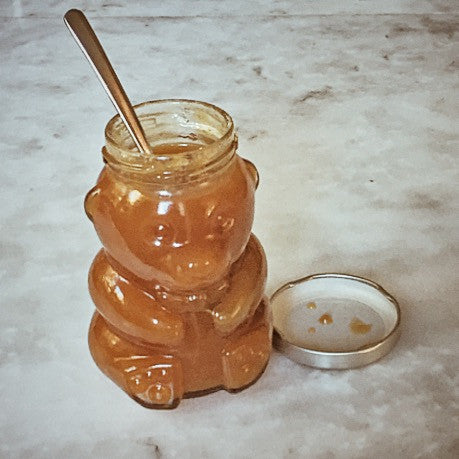 One of the items our kids kept on pining for are those cute honey bears in the grocery store. But oh, they are all made from plastic - which momma knows won't wash well and so will surely just end up in the garbage.
Pine no longer - the Blisshaus Glass Honey Bear is here! 
This little guy will cheer up your breakfast table and make your tea taste sweet - all without plastic.
In fact, we bet you'll have him forever and your children's children will use him.
We ship him empty so you can just pour in your favorite local honey (or decant that giant tin you bought at the farmer's market.)
Did you know?
Plastic-Free Packaging
We ship all our jars and products plastic-free. Alwyas have and always will. Take that behemoth online vendors and big box stores.
Low Impact Shipping
We ship ground in order to minimize our footprint. Yes, this makes us slower at times than the need-this-instantly online stores but we know our jars are worth the wait. Note that we do offset our carbon footprint with our shippers.
Lifetime Labels
We know you'll love your jars. And they will last you a lifetime. This is why we promise you a lifetime of label refreshes should your tastes change or a label get smudged in a cooking extravaganze. Email hello@blisshaus.com and we'll hook you up with your replacement labels
Spread the Love
The planet is running a red, hot fever!

So Quick: tell 2 of your friends they need to start doing the Blisshaus thing like you are!
We need you to convince only 2 friends to join the Blisshaus way in order to reach exponential growth and make our movement HUGE enough to have significant impact.

When you do, we'll send you a Thank You gift, so be sure to tell them you sent them.
Women Owned & Operated
We create jobs for part-time working mommas and sheroes in order to helps us all balance work & family & studies. By buying Blisshaus, you support women who are juggeling it all. Thank you!