Custom Labeled Jars (Set of 2)
Regular price

$ 22.00
Sale price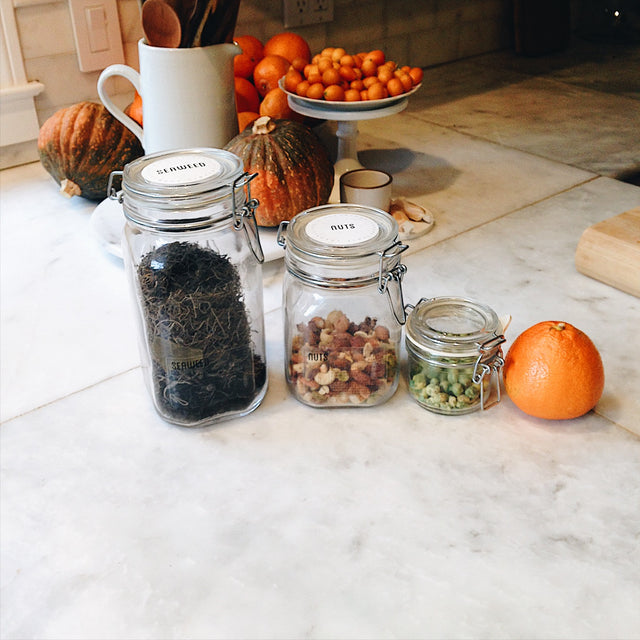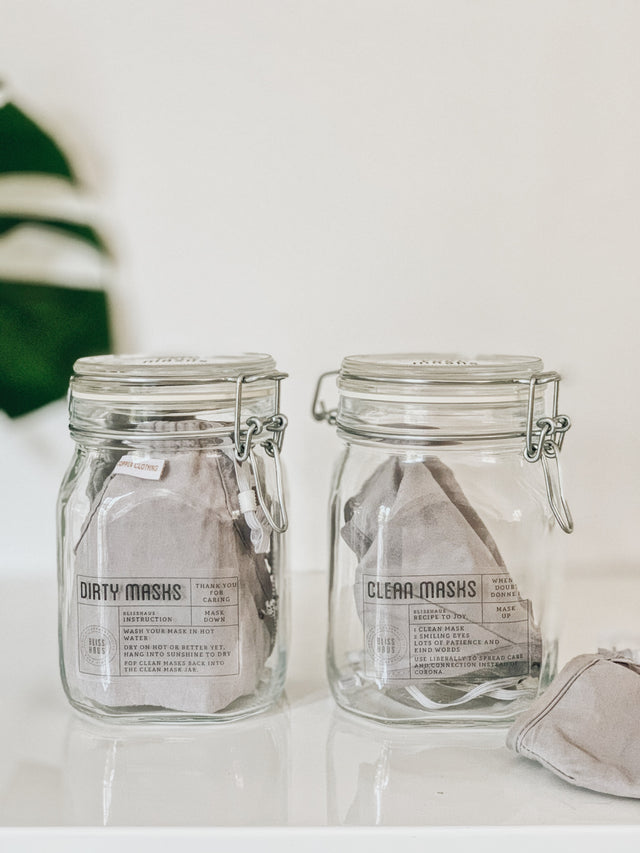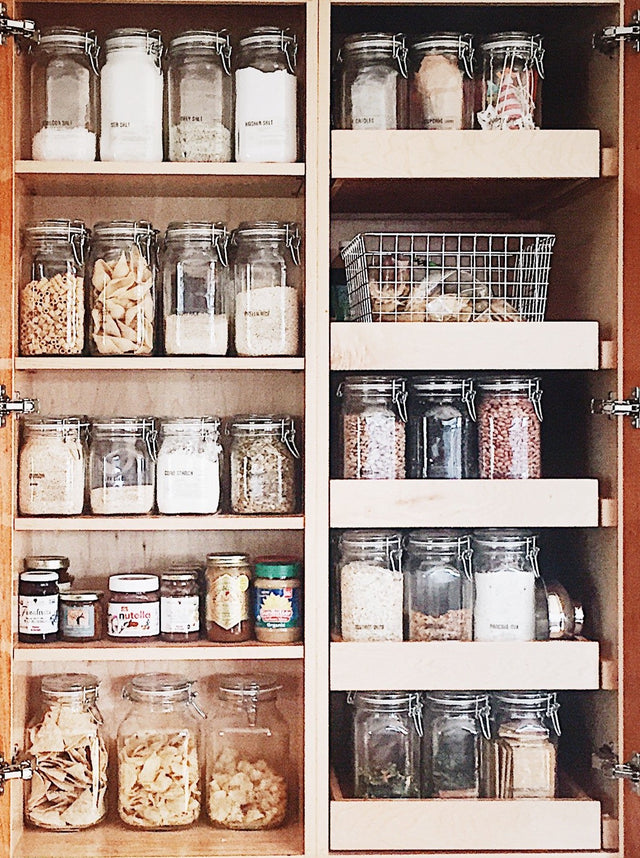 Our glass jars are the key to the beautiful, streamlined Blisshaus look & feel. They seal airtight and will keep your food fresh.
Since they are glass, they are endlessly recyclable and contain zero by-products to keep your food clean and pristine. So pack up all those plastic bins and containers and make the switch to gorgeous, heirloom-quality glass jars!
Every glass jar comes with a label of your choice. When you place an order for any number of jars, add your labels choices to the "notes" at checkout or email us at hello@blisshaus.com. We have hundreds and hundreds of labels, so chances are we will have what you need.  
Choose from 5 sizes (Pictured: Tall & Short):
Mini: 
Holds 1 cup
Round jar with 3.25" diameter x 3.5" tall 
The Mini is the round jar with the wasabi peas, about the same size as a large orange
Short:
Holds 4 cups of rice *
4" square x 6.5" tall
Ideal for baking ingredients like coconut, almond flour, etc.
In the first photo, the Short is the almond flour jar
Tall:
Holds 6 cups of rice*
4" square x 8.75" tall
Ideal for core pantry items like rice, beans, noodles, etc.
In the first photo, the Tall is the powdered sugar jar
Big: 
Holds 8 cups of rice* 
5" square x 8.5" tall
Ideal for cereals, granolas and pasta and beans for families with big eaters
Photo coming soon!
Jumbo:
Holds 12 cups of rice*
5.5" square x 9.5" tall
Ideal for cereal, chips or large inventory of pasta. . We take the jar to our local taqueria and have them fill the chips straight into the jar. Can't get them any fresher - delish!
In the pantry photo, the Jumbo jars are on the bottom left
 * Please note: measurement varies depending on type of food you put in the jar. 
WASHING INSTRUCTIONS: The jar itself, the glass lid, and white rubber seal are dishwasher safe, as are the labels. 
The wire clasp is made from aluminum, so don't put that into the dishwasher. The salts in the dishwasher soap react with the aluminum and turn the aluminum surface grey and rough. Just pinch the wire clasp together to remove it from the lid and jar.  
Did you know?
Plastic-Free Packaging
We ship all our jars and products plastic-free. Alwyas have and always will. Take that behemoth online vendors and big box stores.
Low Impact Shipping
We ship ground in order to minimize our footprint. Yes, this makes us slower at times than the need-this-instantly online stores but we know our jars are worth the wait. Note that we do offset our carbon footprint with our shippers.
Lifetime Labels
We know you'll love your jars. And they will last you a lifetime. This is why we promise you a lifetime of label refreshes should your tastes change or a label get smudged in a cooking extravaganze. Email hello@blisshaus.com and we'll hook you up with your replacement labels
Spread the Love
The planet is running a red, hot fever!

So Quick: tell 2 of your friends they need to start doing the Blisshaus thing like you are!
We need you to convince only 2 friends to join the Blisshaus way in order to reach exponential growth and make our movement HUGE enough to have significant impact.

When you do, we'll send you a Thank You gift, so be sure to tell them you sent them.
Women Owned & Operated
We create jobs for part-time working mommas and sheroes in order to helps us all balance work & family & studies. By buying Blisshaus, you support women who are juggeling it all. Thank you!