The Breakfast Pantry Kit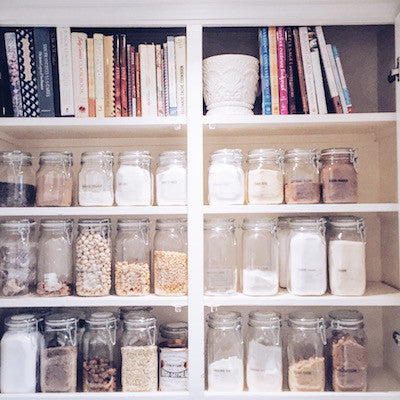 Description
What You Get
Our Breakfast Pantry of over 40 items includes all the jars, containers and recipes you need to streamline your breakfast routine. Now you can whip up a delicious breakfast almost half asleep. 
16 Blisshaus Pantry Jars in assorted sizes
16 Blisshaus Breakfast Pantry Labels
1 Blisshaus Funnel
1 Blisshaus 1/2 cup Pantry Spoon
2 Blisshaus Bulk-Bin Sacks
2 Blisshaus Fruit & Veggie Nets
1 Blisshaus Pantry Set Up Instructions
The Breakfast Pantry includes the following labels

1. Granola
2. Granola Bars
3. Cereal (Jumbo Jar)
4. Cereal (Jumbo Jar)
5. Almonds
6. Nuts
7. Dried Fruit
8. Raisins


9. Oats
10. Scone Mix
11. Pancake Mix
12. Chocolate Chips
13. Coffee
14. Tea
15. Honey
16. Demerara Sugar
Note: If you want customized labels, please please email us your custom selections after your purchase.
What You Gain
With our Breakfast Pantry, all you need are 2 shelves in your cabinets and one shelf in your fridge to create breakfast heaven. Our step-by-step instructions show you how to perfectly organize your breakfast pantry. Whether you prefer savory or sweet breakfasts, with your blisshaus breakfast pantry, you'll be ready for any craving.
Once you have set up your pantry, our labels will be the treasure map to delicious dishes that take as little as 10 minutes to prepare. 
Best of all, we help you cut out emergency runs to the grocery store. Once you fill your jars, you'll be perfectly stocked for any breakfast adventure with only one shopping trip for shelf stables every 2-3 months plus your regular, once-a-week dash to your favorite market for fresh bread, eggs, milks, bacon and the fruits and veggies that add the vitamin boost you seek. Oh, and if you like a smoothie for breakfast, check out our Smoothies Pantry Kit. 
SHIPPING

We ship 100% plastic-free. Always have and always will. Yep, we ship all our glass jars 100% plastic & bubble wrap free! Take that big, fat online vendors.

delivery

Jars are heavy - so yes, shipping costs are high. When you order bundles of jars, we save shipping materials & gasoline and ship orders over $250 free as our Thank You!

LIFETIME MEMBERSHIP

We know you'll love and keep your jars forever. If you ever need a new label, emails us at hello@blisshaus.com. Once a Blisshaus customer, always a Blisshaus customer :-)