The Market Kit
Regular price

$ 85.00
Sale price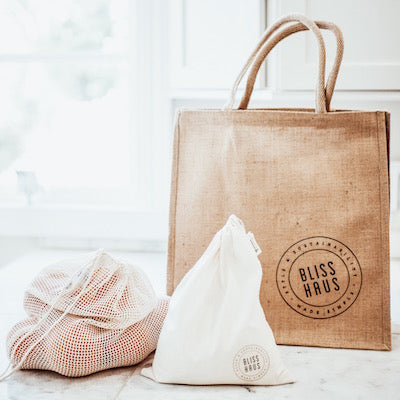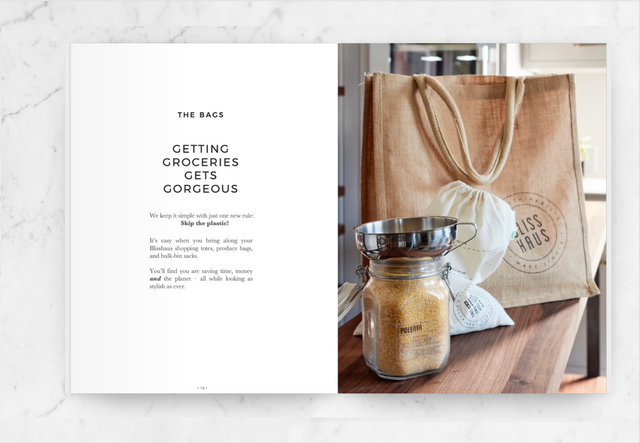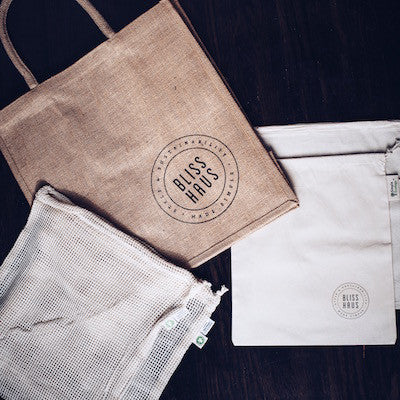 What You Get
Our Market Kit includes our essentials: the fabulous shopping totes, produce mesh bags and flour sacks so you can stock your pantry without using a single shred of plastic. 
2 Tote Bags

3 Produce Bags
3 Bulk-Bin Sacks
2 Glass Containers

1 Blisshaus Shopping Tips & Tricks
(Oh and nope, the cutie pie is NOT included - so sorry. But look how big and sturdy the bags are!) 
We tested dozens of tote bags to find the perfect shape: large but not too wide so you can elegantly breeze through your farmers' market or down the aisles of your coop without knocking over anything. The bags fit perfectly into your foot wells or even stand up tall by themselves in your trunk.
The large totes are made out of all natural jute and feature cotton webbed handles, so they are soft and comfy even on your bare shoulders on those tank-top days. As you've guessed correctly, the straps are long enough to wear over your shoulder, but not too long so the bags will NOT drag on the floor if you carry them in your hands (even if you're only 4'8" as some of us.)
The glass containers are included so you can just hand them to your butcher so he/she can weight your meats right in the glass instead of wrapping it in all that plastic and paper.
For extra convenience, the Tar weights are printed on each bag and container so your grocer can quickly deduct them when checking you out. 
Did you know?
Plastic-Free Packaging
We ship all our jars and products plastic-free. Alwyas have and always will. Take that behemoth online vendors and big box stores.
Low Impact Shipping
We ship ground in order to minimize our footprint. Yes, this makes us slower at times than the need-this-instantly online stores but we know our jars are worth the wait. Note that we do offset our carbon footprint with our shippers.
Lifetime Labels
We know you'll love your jars. And they will last you a lifetime. This is why we promise you a lifetime of label refreshes should your tastes change or a label get smudged in a cooking extravaganze. Email hello@blisshaus.com and we'll hook you up with your replacement labels
Spread the Love
The planet is running a red, hot fever!

So Quick: tell 2 of your friends they need to start doing the Blisshaus thing like you are!
We need you to convince only 2 friends to join the Blisshaus way in order to reach exponential growth and make our movement HUGE enough to have significant impact.

When you do, we'll send you a Thank You gift, so be sure to tell them you sent them.
Women Owned & Operated
We create jobs for part-time working mommas and sheroes in order to helps us all balance work & family & studies. By buying Blisshaus, you support women who are juggeling it all. Thank you!