The Snacks & Happy Hour Pantry Kit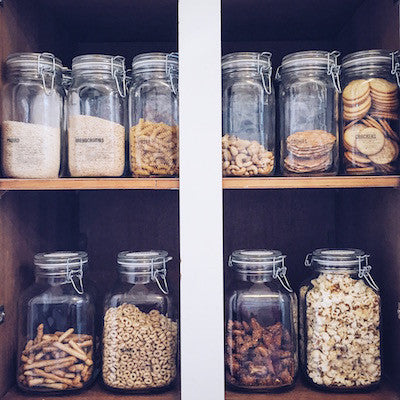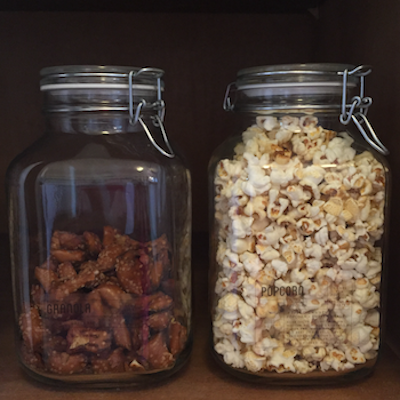 Description
What You Get
Our Snacks Pantry includes the jars and recipes you need to be ready for any snack attack.  With our easy set up instructions and shopping list, you'll be ready to treat yourself and any of your peeps with munchies anytime. 
16 Blisshaus Pantry Jars (8 tall, 6 short, 2 jumbo)
16 Blisshaus Pantry Labels
2 Blisshaus Bulk-Bin Sacks
2 Blisshaus Produce Bags
1 Blisshaus Tote
1 Blisshaus Pantry Set Up Instructions
The Snack Pantry includes the following labels

1. Nuts
2. Nuts
3. Nuts
4. Dried Fruit
5. Dried Fruit
6. Dried Fruit
7. Granola Bars
8. Chocolate Treats


9. Pretzels
10. Popcorn
11. Crackers
12. Crackers
13. Cookies
14. Cookies
15. Chips
16. Chips
Note: If you want customized labels, please please email us your custom selections after your purchase.
What You Gain
With our Snack Pantry, you can set up a pantry that is always stocked with quick and easy snacks for any craving. You'll be ready to pack your kids' snacks for school or offer drop-in guests a few nibble with that happy hour cocktail.
Our step-by-step instructions show you how to perfectly organize your snacking pantry. Best of all, we give you our favorite recipes to make granola bars and other goodies that usually come wrapped in piles of plastic packaging. You simply must try our granola bars - they only take 15 minutes to prep and are so delicious, your kids will sneak them out of the jar.  Also, try having your children mix their own personal trail mix by scooping just the nuts and dried fruit bits and even chocolate treats they want. You'll discover each of them ends up with their own mix. For example, we have two girls and one likes cashews, dried apricots and white chocolate chips. Her sister mixes peanuts, raisins and bulk-bin chocolate morsels.

Finally, we are working on hacking some of our kids' favorites - sign up for our email newsletter and we'll be sure to send you our secret recipes. Who needs glow-in-the-dark cheesy fish if we can mix our own seasoning mix and make our popcorn taste just that great?!

But you don't have to cook all your snacks yourself - there are tons of them available now in the bulk bin section of your local co-ops and grocery stores.
SHIPPING

We ship 100% plastic-free. Always have and always will. Yep, we ship all our glass jars 100% plastic & bubble wrap free! Take that big, fat online vendors.

delivery

Jars are heavy - so yes, shipping costs are high. When you order bundles of jars, we save shipping materials & gasoline and ship orders over $250 free as our Thank You!

LIFETIME MEMBERSHIP

We know you'll love and keep your jars forever. If you ever need a new label, emails us at hello@blisshaus.com. Once a Blisshaus customer, always a Blisshaus customer :-)