The Spices Kit - Sets of 16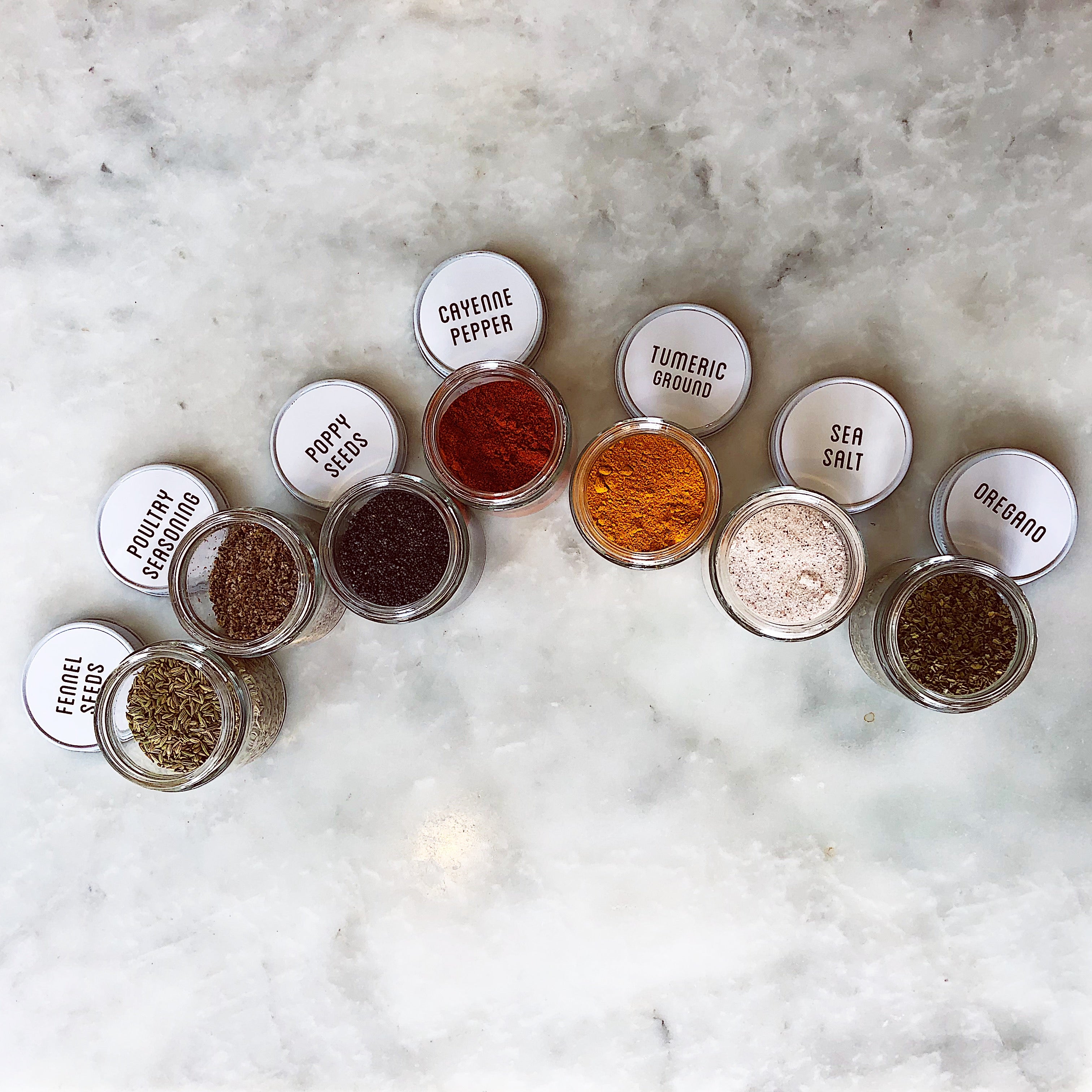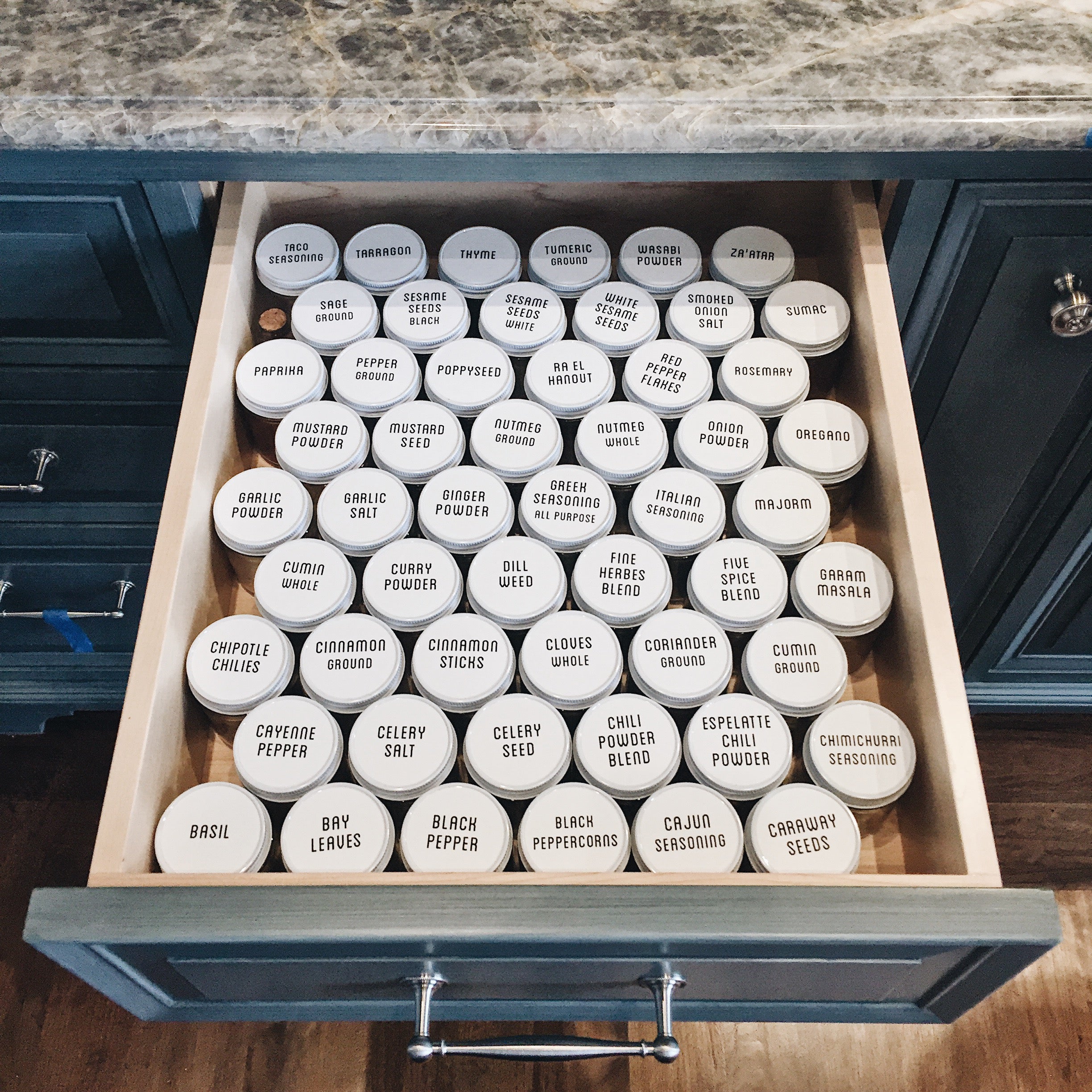 Description
What You Get
Our Spices Kit is one of our all-time-favorites. Gone are the days of random jars from diverse stores. Now you can create that blissful drawer dedicated to the spices that will add that special twist to your dishes. Our jars hold a traditional grocery store's jar's worth of herbs or spices. The tops are twist on & off with a rubber lining for an air-tight seal. 
Our jars are 2.7" tall and 2.4" in diameter and hold 4 ounces. So they are just a bit more squat and shorter than grocery store jars, which means you can stand them upright and still close the drawer! 
We've grouped the kit into 2 sets of 16 so you can mix & match your perfect combo. Each set includes: 
16 Blisshaus Spice Jars 
16 Blisshaus Spice Labels
What You Gain
Our home organization experts all agree, spices deserve a dedicated drawer. Forget those weird rickety plastic steps you put into your cabinet (notice how the front row hides the labels of the back row?)  We ship the spice jars empty so you can use up the spices you have currently in your home. Remember, we're all about reducing waste!  Then, when you need refills, head to your local spice shop to refill them there. Most Whole Foods stores also sell spices in bulk now. 
Set 1 - The Home Chef Spices Kit includes:

1. Oregano
2. Thyme
3. Tarragon
4. Herbes de Provence
5. Fennel Seeds
6. Sage - Ground
7. Red Pepper Flakes
8. Paprika
9. Cayenne Pepper
10. Cumin - Ground
11. Basil
12. Dill weed
13. Celery Salt
14. Onion Powder
15. Garlic Powder
16. Black Pepper
Set 2 - The Braising Chef's Spices Kit includes:

1. Bay Leaves
2. Juniper Berries
3. Cloves - Whole
4. Cumin Seeds
5. Marjoram
6. Rosemary
7. Saffron
8. Cajun Seasoning
9. Chipotle Chilies
10. BBQ Rub
11. Sumac
12. Curry Powder
13. Turmeric - Ground
14. Chinese Five Spice Powder
15. Cardamom Pods
16. Star Anise
 
Not seeing the label you want? Email us at hello@blisshaus.com if you'd like to replace any labels or enter them in the "notes" when you order. 
SHIPPING

We ship 100% plastic-free. Always have and always will. Yep, we ship all our glass jars 100% plastic & bubble wrap free! Take that big, fat online vendors.

delivery

Jars are heavy - so yes, shipping costs are high. When you order bundles of jars, we save shipping materials & gasoline and ship orders over $250 free as our Thank You!

LIFETIME MEMBERSHIP

We know you'll love and keep your jars forever. If you ever need a new label, emails us at hello@blisshaus.com. Once a Blisshaus customer, always a Blisshaus customer :-)