The Under The Sink Set
Regular price

$ 116.00
Sale price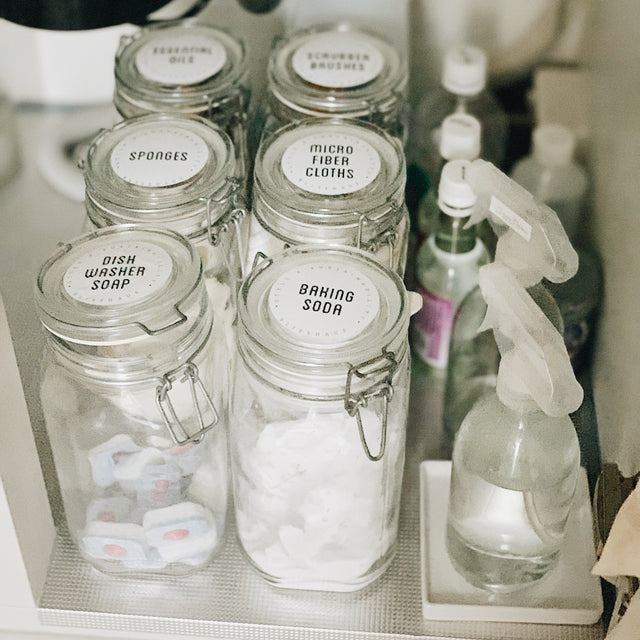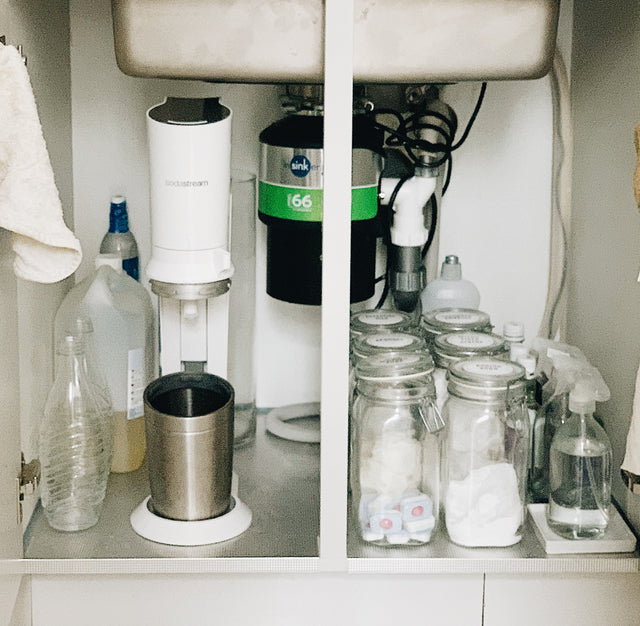 Add a boost of bliss to your cleaning chores: ⁠
Our Under-The-Sink-Set makes your cleaning gear look so good... it might just inspire one of your housemates to do some of the chores (A girl's gotta have dreams, right?!)⁠
⁠
Now that we are all being extra careful about disinfecting, having a lovely set-up helps so much with the neverending task of cleaning.⁠
⁠
The set includes six tall jars plus three spray bottles so you can sort all your cleaning essentials into neat, clean glass jars. Each jar has a label with cleaning tips & tricks. 
Your under-the-sink shelf has never looked this beautiful!

What are you waiting for? Switch to elegant and eco-friendly cleaning with this set:
6 Jars
Dishwasher Soap
Baking Soda
Microfiber Cloths
Sponges
Scrubber Brushes
Essential Oils
3 Bottles
Vinegar Cleaner Spray:
For general-purpose cleaning for everything but natural stone counters


Castile/Marble Cleaner Spray:
For general-purpose cleaning including marbles, natural stones, and aluminum


Hydrogen Peroxide :
For toxin-free disinfecting of your home and even hands!
Vinegar Cleaner Spray: Our favorite cleaner is the vinegar-rosewater mix spray. It is perfect for everyday cleaning. Add baking soda for extra scrubbing power as needed. ⁠ Just don't use it on marble or natural stone as the acid in the vinegar can etch the stone. For cleaning natural stones use the Castile Cleaner spray.
Castile Cleaner Spray: This is the general purpose clean you can use even on marble counters or natural stone. We keep the spray bottle right under the sink so we can squirt and wipe off the kitchen counter in a jiffy.
Hydrogen Peroxide: The hydrogen peroxide is our non-toxic way to disinfect and kill viruses during corona-day-cleaning. After you cleaned with your vinegar and/or castile spray, use the H2O2 spray to disinfect your doorknobs, counters, and anything else - even your hands!   Spray it on and let it sit for 5 minutes. In that time, the hydrogen peroxide kills fungi, bacteria, and viruses, and then breaks down into oxygen and water - so all safe and sound for all the loves in your life.⁠ We use a 3% strength hydrogen peroxide. This is strong enough to disinfect in 5 minutes and so harmless to humans, you can use it as mouthwash!

⁠
Another note: the 'Microfiber Cloths' we use in our home are bamboo cloths to avoid plastic fibers. We named the jar microfiber so that those of us who are still used to them will realize that the bamboo cloths do the trick just as well without all the microplastics washing into the waterways.⁠
Did you know?
Plastic-Free Packaging
We ship all our jars and products plastic-free. Alwyas have and always will. Take that behemoth online vendors and big box stores.
Low Impact Shipping
We ship ground in order to minimize our footprint. Yes, this makes us slower at times than the need-this-instantly online stores but we know our jars are worth the wait. Note that we do offset our carbon footprint with our shippers.
Lifetime Labels
We know you'll love your jars. And they will last you a lifetime. This is why we promise you a lifetime of label refreshes should your tastes change or a label get smudged in a cooking extravaganze. Email hello@blisshaus.com and we'll hook you up with your replacement labels
Spread the Love
The planet is running a red, hot fever!

So Quick: tell 2 of your friends they need to start doing the Blisshaus thing like you are!
We need you to convince only 2 friends to join the Blisshaus way in order to reach exponential growth and make our movement HUGE enough to have significant impact.

When you do, we'll send you a Thank You gift, so be sure to tell them you sent them.
Women Owned & Operated
We create jobs for part-time working mommas and sheroes in order to helps us all balance work & family & studies. By buying Blisshaus, you support women who are juggeling it all. Thank you!