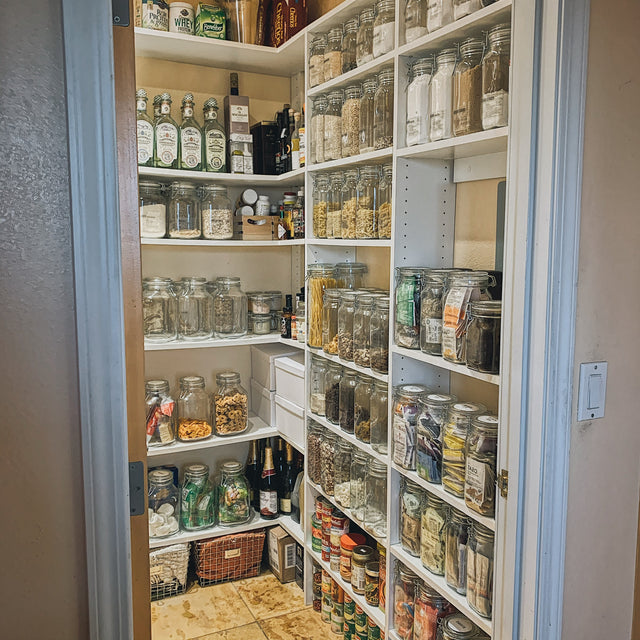 Blisshaus #6: Still Beautiful 5 Years later!
[3.5 minute read]
5 years ago, we sorted this pantry. 
This month, we went back to take a peek at how it's going.
Turns out, our system is easy to maintain!
After 5 years, the pantry still looks stunning and has transformed a family's way to cook, eat, and shop - all for the better!
The family:
This family of three lives in the Oakland hills with their lovely daughter.
When we first sorted their kitchen, she was 11 and starting to bake on her own. Our Blisshaus sort was the perfect opportunity to set up a dedicated baking section for her and make room on the counter for the standing mixer Santa was about to bring.
The kitchen:
This pantry wall sits right off the kitchen in the laundry room. Limited to 1 1/2 walls of shallow shelving, keeping the foodstuff organized was near impossible. Bags and boxes were crowding each other out. It seemed easier just to buy all ingredients from scratch for any given recipe rather than searching for what was on hand. 
5 Years Ago - Before Blisshaus
The makeover:

We started with a deep-clean of the space. All food came out. We scrubbed every shelf. Next, we decanted the food. We checked that everything was still fresh and labeled each jar.


The shallow shelves were perfect for Blisshaus jars. We need only 5 inches for a single row of jars and 10 inches for a double row.  Thanks to this efficient set up, we managed to get loads of food into the pantry with room to spare!
The special surprises:
We created a dedicated baking section for the daughter. The row of sugars looks especially beautiful.
For dad, we created a happy-hour shelf up high.
Mom's most beloved jars are in the snack section where she and her daughter like to hang out and catch up on life.
5 Years ago - After Blisshaus Makeover
5 Years Later: How's the pantry holding up?
We were curious how the jars were holding up after 5 years.
So we called to check-in. The timing was great because a new puppy was about to arrive. What better time to add in a few jars for puppy kibble.

We arrived and WOW!  Everything still looked so good!
 5 Years Later - Before Blisshaus Refresh
The pantry still looked so beautiful. The baking pantry was still in its spot and all the core pantry jars were in tip-top order.  We cleaned up the jars and shelves that needed a wipe down,  switched out a few labels and jars that the family had outgrown and nudged everything back into alignment.


What a delight to see that the Blisshaus way of life is simple and easy to maintain.

Mom shared with us that their shopping routine was transformed thanks to the Blisshaus pantry.  

"Our shopping shifted from random runs to the store to a lovely routine with one-stop a week at the butcher and produce stand. Then, every month or so, we go together to the bulk bins to stock up on whatever is running low. It's so easy to see what we need because of our lovely jars."
 
5 Years Later - After Blisshaus Refresh
What do you love most about your Blisshaus pantry?

"We always loved to cook. The Blisshaus kitchen made this family activity even more special because clean-up is so much easier without all the clutter. 
Plus seeing what food we have in the house makes it easy to cook what we have. We waste less food and have so much more fun in the kitchen.
We LOVE being a Blisshaus family!" Mia B. - Oakland