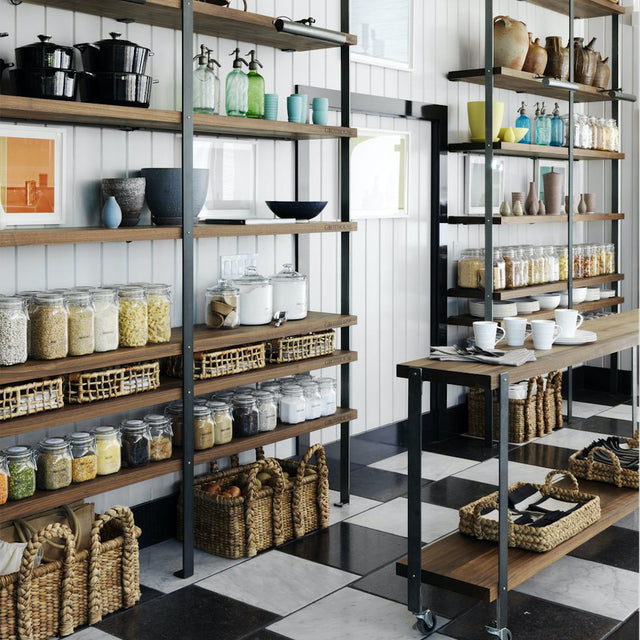 House Beautiful - The Best of the Best in the 2017 Kitchen of the Year
Blisshaus pantry jars were an essential part of the 2017 HouseBeautiful Kitchen of the Year, designed by Jon de la Cruz for the 40th Annual San Francisco Decorators' Showcase.
For the Kitchen of the Year, de la Cruz focused on beautiful functionality by combining his expertise in cooking with his deep knowledge of design history. The space features multiple stations for cooking, baking, breakfast and family dining — as well as innovative storage and display ideas. Drawing his inspiration from the most essential ingredients in any dish — salt and pepper — de la Cruz chose a black, white and gray palette using vividly modern applications to redefine the timeless kitchen into a beautiful, but highly usable, space.
Everything Within Reach
"Every square inch of the kitchen's T-shaped footprint had to be considered and utilized," says de la Cruz. Shelving by Grothouse serves as a transparent pantry while the glass Blisshaus jars allow families to see what they have, use it and buy less, reducing waste while resulting in savings, according to the company.
Open-Shelf Pantry
Grothouse's extra-tall black-walnut shelving "emphasizes the 12-foot ceilings," de la Cruz says. Blisshaus pantry jars and custom labels complete the shevles. Vernon picture lights by Hudson Valley Lighting.
Including an Appliance Lift
The hydraulic mixer lift takes the muscle-straining work out of raising heavy tools from their drawers to the counter. With a push, it descends back into its storage spot when it's no longer needed.
The Blisshaus baking pantry makes retrieving your cookie ingredients as easy as lifting out the mixer. 
A Functional Pot Rack-Turned-Art Piece
When a space has tall ceilings, you need a little drama up high, too. Partnering with an artisan, de la Cruz designed the custom rack for maximum convenience — each pot is hung with its lid, so no need to dig through cabinets for its mates. Polished nickel globe bulbs by Troy Lighting intermingle for additional lighting, a must over an active prep space. Our Blisshaus funnels also find their perfect home on the gorgeous pot rack.
So Much Smart Refrigeration
The Thermador 36" Refrigerator and Freezer Columns each feature totally intuitive TFT control panels and temperature-controlled ThermaFresh drawers which independently control the temperature to keep food fresher, longer. Even better: the Open Door Assist system, which allows cooks to press or pull on the door for it to pop open, paired with soft close produce bins for a little touch of luxury. Blisshaus jars and fridge containers make it easy to store your fresh produce, meats, cheeses and leftovers for a perfectly appointed fridge and freezer.
House Beautiful's 10th annual Kitchen of the Year takes place at the San Francisco Decorator Showcase in the Pacific Heights neighborhood of San Francisco, California. Designed by Jon de la Cruz of DLC-ID, this year's kitchen is a 625-square-feet space with amazing architectural details (12-foot ceilings!), amazing open pantry shelves, a beautiful mix of new and old materials and so many windows.
5 Minute Video Tour of the kitchen with Jon de la Cruz:
"Partnering with the best-of-the-best was really a privilege" ... the honor is all ours, Jon! 
Video: Editor in Chief Sophie Donelson walks through the space with designer Jon de la Cruz 
Sophie and Jon dive into the Blisshaus breakfast pantry station

HouseBeautiful's very own Editor in Chief, Sophie Donelson, introduces Blisshaus
check out the Smores Pantry, too
This story originally appeared in the October 2017 issue of House Beautiful.
Photos by Jonny Valiant