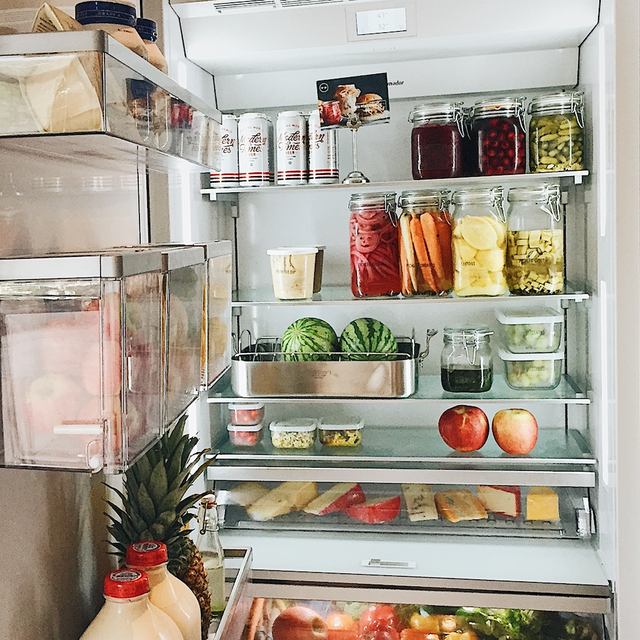 Thermadore: 7 Steps to Organize Your Fridge with Blisshaus
With more time at home and our general lifestyles evolving over the past few months, I've been organizing and refreshing all the rooms in our house to fully utilize our space. I've color-coded our bedroom closet, rearranged the playroom, and even sorted the pantry… but one space I've yet to tackle is our refrigerator.
At first, it felt very intimidating to not only organize my refrigerator, but also style it in a design-forward way that's pleasing to the eye—that is, until I discovered Blisshaus and their exceptional tips and tricks. The experts at Blisshaus share 7 steps that will transform your entire refrigerator in 30 minutes:
1. The Leftovers Shelf



One of the golden Blisshaus rules is to dedicate specific sections of your refrigerator for distinct purposes. For leftovers, the Blisshaus team recommends a bottom or mid-tier shelf so you can see at-a-glance what leftovers remain. I've found this unbelievably helpful as my refrigerator has been quite disorganized in the past.
Select 6-8 matching glass storage containers to fill with leftover food—the trick here is to keep things uniform. Wipe down your designated shelf (I like to use a mix of ½ vinegar, ½ water for this), and dry well with a clean towel.
Tip: Get enough containers to fill an entire shelf (and keep them there so that they are clean and at-the-ready, even when empty). This will prevent anyone in your home from wedging pickle jars or carrot bags on your designated leftover shelf.
2. The Condiments Door
Next, empty the top shelf in your door of all bottles and jars. Wipe down the surface well and dry it off. Corral all your condiments onto that single shelf in the refrigerator door. The door shelves on my Thermador Refrigeration Column are exceptional because I can fit two rows of condiment bottles and still see everything all at once. I like to turn all the bottles so their labels face out for a clean, organized look.
Tip: As you move your condiments back into the refrigerator, check their expiration dates, and throw away any dated food.
3. Vegetable Vases
Thermador sets you up for success with in-door produce bins and brilliant lighting. The fresh produce bins are climate controlled—perfect for housing a fresh farmer's market haul. The Blisshaus experts recommend sorting vegetables by color: one bin for greens and yellows, and one bin for reds. Sorting vegetables by color provides another layer of organization and is so visually appealing. Every time I open my refrigerator door, I feel a sense of calm just looking at the beautifully arranged produce.
Tip: Place your long, stalky vegetables such as celery, asparagus, or leeks in vegetable vases—use Blisshaus jars or simply clean glass pasta sauce containers. Fill the jars with 1-2 inches of water as you would a flower bunch and place your tall vegetables upright like a miniature bouquet. Try this with fresh herbs, too!
4. Snack Station & Smoothies

Set up a section for fruit, vegetables, and snacks in glass jars. Blisshaus recommends sorting your snacks this way:
-Sliced carrots and celery sticks (keep submerged in water for an extra snap!)
-Pre-sliced vegetables such as sweet peas, jicama sticks, etc.
-Fruit such as apples or grapes snipped into tiny clusters
-Cut cheese into cubes or snackable slices
-Keep nuts chilled in the refrigerator for a refreshing afternoon snack
Tip: Set up ready-to-go smoothie jars with chia or flax seeds (seeds keep much better in the refrigerator rather than the pantry) in your Half-Gallon Bin so a healthy, delicious snack is always at-the-ready.
5. The Dairy Section

BlissHaus experts recommend choosing a dedicated section for your cheeses. Most stores will wrap cheese in individual plastic wrap when you buy a block (we love to use beeswax as a substitute for plastic wrap). Once at home, place your cheese on parchment paper or in a glass food container for an organized, fresh look.
Blisshaus also recommends storing milk in glass bottles for a cohesive, beautiful design—there are many local dairy options that ship milk bottles in this way.
Tip: Save a little space in your refrigerator by purchasing non-chilled farm fresh eggs locally. Store them in a ceramic bowl or wooden basket (if you buy them non-chilled out of the nest, there is no need to refrigerate eggs).
6. The Party Shelf

While entertaining, I love using a Blisshaus trick to create a stunning shelf with chilled beer or wine. I like to line up craft beers or bottled drinks in a row like a grocery store would, with labels facing out. Create two or three full rows of bottled beverages for the full effect.
Tip: An Under Counter Refrigeration Unit will free up additional space in your refrigeration column, and will store your bottles at the perfect temperature.
7. The Protein Shelf
One of my favorite tips from the Blisshaus team was to transform the bottom shelf in my refrigerator into strictly a shelf to store meats. This makes preparing a meal much easier as I always know where my meats are placed and keeping meats on this shelf safeguards all your other foods from drips and spills—plus, the bottom shelf is the coldest, so your raw meats stay fresh the longest there.
Tip: Pay close attention to the temperature that specific meats should be stored at and adjust your refrigerator's temperature accordingly for best results.
For more incredible tips and tricks, visit Blisshaus on Instagram here: https://www.instagram.com/blisshaus/
We want to see your beautiful, organized refrigeration columns!
Share your "before and after" photos with us in the comments or on our social channels: www.facebook.com/thermador, @ThermadorHome and @Thermador.
— Published by Thermador |
Author Natalia Elko | August 6, 2020 |