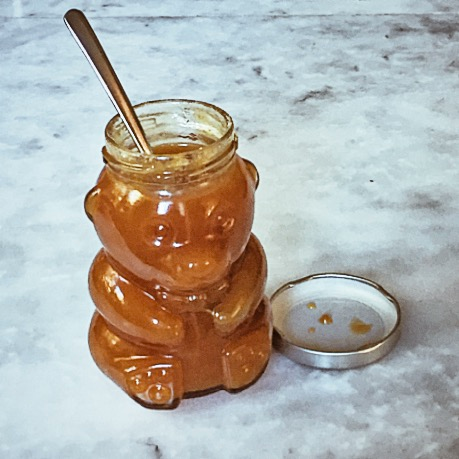 TIP #4: Skip the Squeezie Bottles
... when you buy condiments & honey
Our vacation pantry on our last trip to Maui

Only 40 years ago, condiments, juices, sodas, and even milk all came in glass bottles. 
Today, you have to search quite a bit to find ketchup in glass at your store. 
However, the quest for glass is worthwhile! 
Glass can be endlessly recycled, so it is the material of choice for Blisshaus joy. 
Plus, the glass bottles look way better in your fridge than the plastic stuff.

Making the switch is easy: 
When you are at the store, simply give the containers a solid squeeze. 
If it's plastic, skip it. Reach for the brand in glass instead.
It's that easy.

And when you find your favorite condiments in glass, we even give you permission to stock up. 
We usually recommend you don't by multiples so that you can keep your shelves less crowded. But hey, if you L-O-V-E those pickles and they give you bliss, go for it.
 
Here are our 3 tips for skipping plastic when you buy your condiments in the store:

Next time you reach for ketchup, mayo or mustard, squeeze the container and only buy it if it's made from glass.

Skip broth in tetra paks because those are still extremely difficult to recycle. Use bouillon cubes instead. (yep, the pantry above has a few tetra paks left, but once those are used up, the family promised to switch to bouillon cubes.)

Look for salt in paper cartons. There are several Kosher Salt brands that come 100% plastic-free.
Let's bring back the new, old way of living and choose only products packaged in glass.

After all, most plastic does not get recycled. Even when it is, plastic is not meant to be recycled. This means when it is being recycled, plastic produces all sorts of bad by-products. Why not avoid all that and make the switch to glass? 
PLUS now you can show off your ketchup-bottle-banging skills to your kids. And no worries if you end up with a big blob of ketchup on your plate - admit it, this is the stuff dinner table memories are made of!
Bonus Tip: 
The one thing our kids kept on begging for were those cute, squeezie honey-bear bottles.  
We looked high and low for a cute alternative to that plastic bear - and voila! 
After a long search, we found the perfectly cute honey bear jar that you can refill either directly at your farmers' market or with honey from a traditional glass jar. 

There's nothing quite like our London tea time with the little bear on our table!
And there you have it, another simple tip to skip the plastic.

Show us a photo of your plastic-free condiments section in your fridge:
Tag us at #blisshaus or send us your photo to hello@blisshaus.com.

 



We love to see & share how all of us are healing our planet one kitchen, one trip to the store at a time!
Wishing you many blissful moments in your home,
- Wiebke & the Blisshaus Crew